Hip hip hooray for Christmas jumpers! We think they really do put the 'merry' in to Christmas. Christmas jumpers used to be the dodgy domain of Nan's knitting … The present you'd dread opening, knowing that for the rest of the day you'd be obliged to wear this year's cringy creation.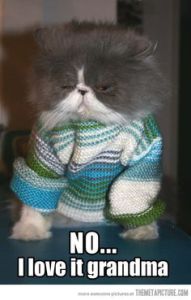 But in the last few years the Christmas jumper has come out of the closet to become an essential part of the December festivities. And we think that this year is set to be the biggest yet for the Yuletide yarn! Now that we've all come to know and love the Christmas jumper, who could resist getting into the festive spirit by donning Crimbo knit!? Whatever your style, shape or budget, there's a Christmas jumper out there for you … There's classic, cute, stylish and silly, blow the bank or raid the piggy bank. But with so many lovely, sparkly jumpers out there to choose from, it's enough to confuse even the best of Christmas shoppers.
So to help you on your way to finding your perfect knit this Christmas, here at Merry Christmas Jumpers we've searched high and low and found the best there is to offer. All you have to do is sit back with a glass of mulled wine and browse through our collection until you find 'the one' … You'll know it when you see it – it'll set your Christmas bells a-jingling and your fairy lights a-twinkling!
If you think we've missed a Christmas cracker of a jumper from our collection, let us know and we'll tell the world about it!
And if that wasn't enough, we'll be helping you find your Christmas jumper groove with our 'know-how' section and sharing some Christmas fun and love in our 'fun-stuff' section. So keep visiting the site for festive inspiration!
A very merry Christmas to everyone!
Looking to get in touch – pop over to our page on Facebook and say hello. If you enjoyed the website or found it useful, please give us a like… we'll love you forever and have a kind word with the big man. x