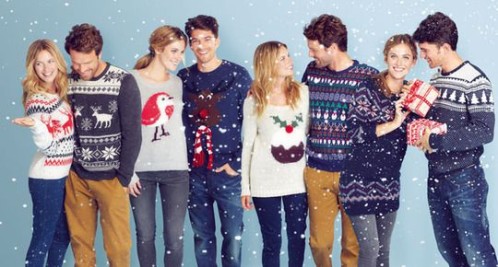 Friday 12th December is Christmas Jumper Day 2014. Christmas jumpers are selling everywhere this year, they have definitely shed their slippery skin of naffness and are emerging as a great British tradition that we are proud to celebrate. We love donning our cheesy, festive jumpers because they confirm that we have a great sense of humour and it is also pretty sexy when we do not take ourselves too seriously! The demand for festive jumpers with motifs ranging from the sublime to the ridiculous is currently rocketing and to make sure that you and your family are fashionably covered in a quirky, cuddly, cosy knit – make your choice now!
The countdown has begun for our Charity Christmas Jumper Day 2014. Friday 12th December is Save the Children's third year of fund-raising and because of your great support, popping on pullovers, in the UK has so far raised in excess of £1.6 million. The more you raise, the more children can be saved. Schoolchildren, students and workers everywhere are being asked to make the world a better place by wearing a Christmas sweater on Friday 12th and donating to Save the Children (it is suggested that children give a £1 and adults £2) and even better, every donation will be matched by the UK government this year! Team up with family, friends and colleagues and go jumper crazy to boost the fundraising total.
The Christmas Jumper is now essential kit and if you and your loved ones wish to join in the seasonal celebrations check out the range of seasonal woollens we have selected here. We have tried to meet the requirements of all tastes and ages. Please let us know how we are doing! Have fun … and make the world better by wearing a Xmas sweater.